Utilization of the real time data-driven dashboards has become a core management theme at Fortum. Fortum Lens, a new tool created in cooperation with Cubiq, has increased transparency and supported new start-up culture at Fortum.
Fortum sees through new lens
– Easily accessible business intelligence as a catalyst for the new open company culture at Fortum.
In the beginning of the project the mission was to find a tool, for the executive management team at Fortum, that could utilize the key business data from various business units in real-time. A mass of that data had been previously collected from different internal and external data sources at the organization, but the daily use and accessibility of that data had not reached its full potential.
"The information should become one with the user and transform with the needs of the user. That's what we are aiming for. We started building Fortum Lens on top of one of our core values, curiosity. We have solid foundations in data, but many times the problem has been how to access the data, where is it and who knows about the data. Fortum Lens is trying to answer that question,", says Fortum CEO Advisor Heikki Keskiväli.
The open data provided by Fortum Lens promotes the culture of transparency
Fortum gathered a start-up spirited development team to not only implement the new tool but also more transparent organization culture. Cubiq was chosen as a partner for the project and Qlik Sense as the technology.
Fortum had already a long-term, solid knowledge in Qlik technology, which made the development work time- and cost-efficient due to Qlik Sense web mashup templates developed by Cubiq. Fortum Lens was the product of this collaboration between Fortum and Cubiq.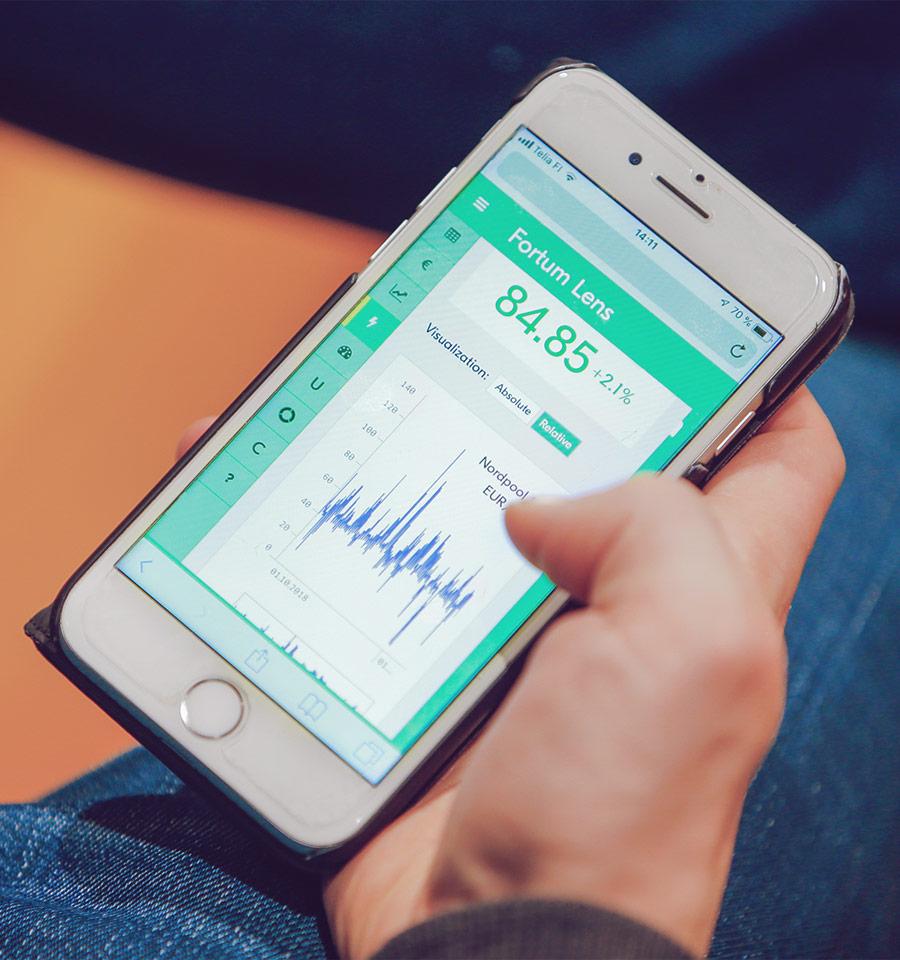 "From technical point of view, the key thing has been this mashup we have made. Meaning that it's a combination of web coding and Qlik Sense. This kind of development gives us unlimited possibilities to implement just about anything we can come up with,", Fortum Head of Business Intelligence and Analytics Jaakko Riipinen explains.
"We have a rapid two-three week development cycle, due to which we can continuously provide new content for the users. In data projects like this, it hasn´t been usually the case," he continues.


Visible results excited the management team
The executive management team of Fortum got excited about the rapid results and the visual, user friendly tool they were presented. This allowed the project to move forward faster with great results.
"One of the key things with Fortum Lens has been data visibility and access to real-time data. So, we want to bring the possibility, to access real-time data, instead of receiving reports periodically, to anyone in Fortum,", Jaakko Riipinen sums up.
After a green light from the management team to continue the project, there have been additional functionalities for the next level management teams and different business units in the organization. The next step is to launch the app for wider audience in Fortum and learn to utilize the real-time data provided by Fortum Lens more efficiently.
"One of the most exciting things is, how people react to Fortum Lens when they see it. When people see one example of how to use new digital tools to manage information and to create insights, they come up with one hundred ideas of their own. And that can be truly powerful,", Keskiväli says.
Seeing real-time business data with a visual and accessible tool, has caught and opened the eyes in many business units.
"The use of the existing data has become more efficient and the errors are discovered faster than before. As the business data is combined and presented to various user groups, it will reach more people and generate new ideas and synergy between different units of the organization," Keskiväli continues.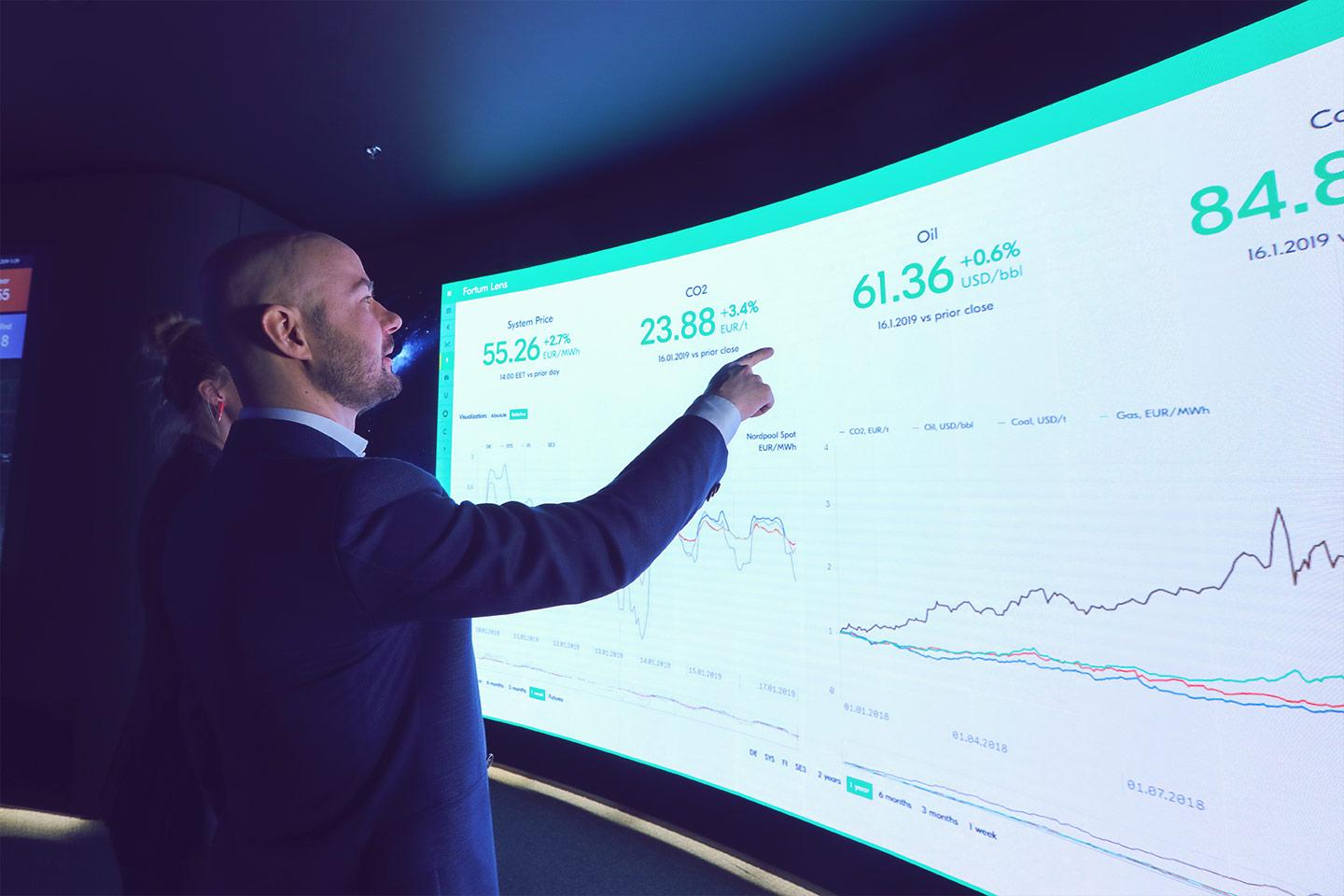 Start-up culture strengthened and transparency increased
A notable and encouraging result of the project has been the strengthening of the new start-up culture at Fortum and the faster response times due to increased data transparency. Such results meant that incomplete analyses were also published, which has increased awareness and drive to improve things for better. In turn, this has also inspired a healthy culture of competition within the organization, as different units would request to have their own custom-made visuals and functionalities made in Fortum Lens.
Collaboration is key
Heikki Keskiväli has been an important link between Cubiq, Fortum project team and Fortum management team.
"When making a digital product, things happen at a totally different clock speed than before. What this means is, that you must have the right people in place, and that's where we have been lucky working with the experts from Cubiq,", Heikki Keskiväli says.
The cooperation between both Cubiq and Fortum has been straightforward and decision-making throughout the project has been rapid. At best, the idea presented by the management team, has been developed and implemented into a production demo on the same day.
"Since the test group for Fortum Lens has been the executive management team of the organization, the start-up culture has had strong support from the beginning. There has been mutual understanding that the presented implementations have not always been the finalized result. The errors have been corrected in flexible way when discovered. The new open culture has introduced more practical approach to problem-solving, as well as supported the transparent and modern company culture at Fortum,", he wraps up.


[ac-sc id="225660″]